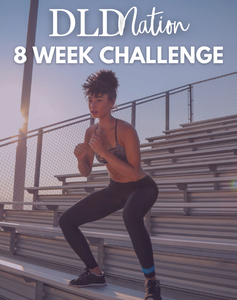 Workout splits offered for At Home (DB ONLY) or Gym with the option to do 3, 4, or 5 day split. Workouts are inclusive to all humans and for all goals! (weight loss, body recomp, bulking etc)

Ab and core work included

Cardio instructions provided

Form videos of every exercise

Weekly recipe menus provided every week of the challenge (breakfast, lunch, snack, dinner and dessert all included every week)

Custom macro calculations for the challenge available as an add-on

One:One Nutrition coaching offered for the challenge as an add-on

Delivered in a PDF you get to keep forever

Challenge winners get 3-12 months of dldnation coaching FREE

BONUS educational pages on nutrition, macros, lifestyle and more!